As a mission with churches we support our international workers, partnerships, Alliance Institute for Mission (our college) and national workers and leadership through our Great Commission Fund.
Our primary funding for our international workers and partnerships is through our "Faith Promise". Our local churches support our faith promise through an annual response during our missions conventions. Our primary funding for our administration and local workers is through each church contributing to our local church contribution scheme.
Yes, I would like to support the team:
Alliance Church members can make a faith promise to the Great Commission Fund through your local church using the forms below.
For others who would like to contribute now to our team's support you can make your contribution
here: Give
Or you can make your contribution at: Give
The C&MA around the world uses the Give giving model to support our workers and ministries.
Thank you for your support,
Rev. Ken Graham
President, C&MA Australia
葛敬能牧師 澳洲宣道會會長
MỤC SƯ KEN GRAHAM, HỘI TRƯỞNG, HỘI
TRUYỀN GIÁO PHƯỚC ÂM LIÊN HIỆP ÚC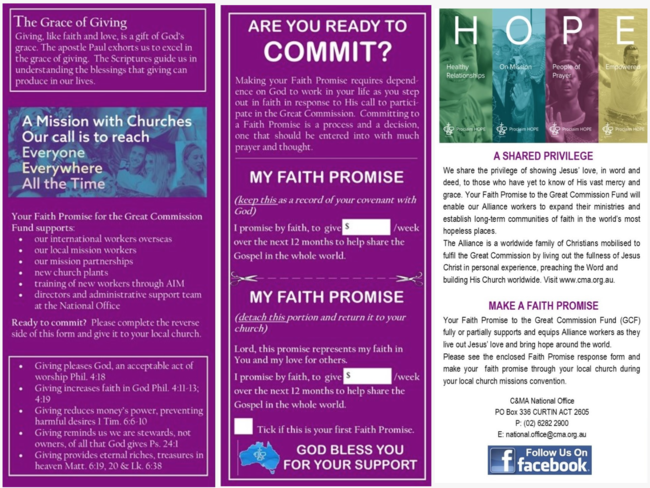 You can call us on 02 6282 2900 to discuss how to make a Faith Promise or your local church treasurer can help you make a Faith Promise to support our mission to Everyone, Everywhere, All the Time.